4K, HDR & ATMOS

REMOTE EDITING

CUTTING ROOMS

COLOUR GRADING

ONLINE EDITING

ADR & VOICEOVER

SOUND DUBBING
Interested in Working with us?
Established in 1995, TVC Soho is a post facility in the heart of Soho, London. We work with a wide range of broadcasters and production companies worldwide, on projects ranging from documentaries and television drama, to feature films.

Our offices are home to a core staff of industry specialists boasting a wealth of expertise across the creative and technical fields.

We work in partnership with you to identify and implement structured or bespoke post-production workflows tailored specifically to your project and matching your timescale and budget. DATA LAB
High-speed file transfer to/from the location. Rushes processing from all camera formats. LTO backup and web dailies. Format and framerate conversions, data conforms, colour science, and workflow management. AUDIO
ProTools mixing studios with 24 channel desks for stereo, 5.1, 7.1 & Dolby Atmos. Voiceover and ADR booths with remote connection. Large sound effects and production music library. Remote VO kits also available. OFFLINE
Remote editing and Soho-based cutting rooms linked by NEXIS shared storage for collaborative editing. High-speed fiber internet, air-con, and the client computer. All backed up by fully qualified support technicians. VISUAL EFFECTS
2D and 3D visual effects and motion graphics using After Effects, Mocha, Motion and Nuke. VFX pipeline design and management. ONLINE
NEXIS connected Symphony & Davinci finishing suites with Sapphire and Boris FX, Adobe Creative Suite, and 4K Sony Monitoring. Mastering all formats including IMF and AS-11. DIGITAL CINEMA
DCP mastering with KDM and DKDM encryption. International versioning services for broadcast, theatrical, Blu-ray and DVD distribution. Including aspect ratio, resolution and framerate conversions, titling, transcription, sound dubbing and editorial. GRADING
2K, 4K & 8K Davinci grading systems with SONY picture monitoring and NEXIS network connected. Full set of image enhancement tools including noise reduction, sharpening, regrain and upscaling. RESTORATION
Digitisation of film and tape archive. Restoration using Pheonix for dust, flicker, scratch, stabilise, warp, print align, drop-out, line-sync, cross colour and colour correction and enhancement.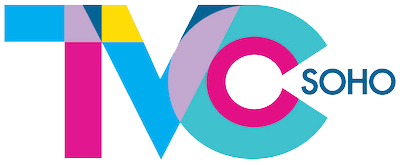 Established in 1995, TVC Soho is a post facility in the heart of Soho, London.
For all enquiries or to make a booking, call Simon or Marc on 020 7734 6840.